Table of Contents
Purchasable compounds collection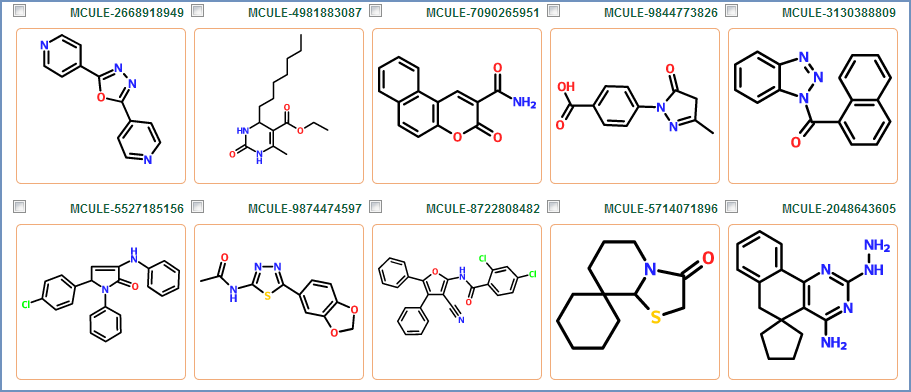 The Purchasable compounds collection is currently the main part of the Mcule database. It is managed by Mcule using our rigorous compound registration system - MAC and automatic product data update mechanism. It contains more than 35 million unique purchasable compounds prepared for virtual screening.
The content of the purchasable compounds collection is updated daily with the products that are commercially available currently from mcule.com's compounds suppliers. Identifiers of the compounds are assigned considering tautomerism and protonation states, different form of the products are mapped to a single compound in the collection.
Main features: chemical correctness, tautomer detection, available products for each compound, daily stock amount update
Standardization and chemical correctness
During compound registration different forms of chemical issues are addressed. Compounds with incorrect structure or ambiguous representation will need to go through a manual correction process before they are added to this collection. Registered compounds are stored in standardized form with all their components identified and classified as a main component or as a counter ion or a solvent.
Before registering product catalogs, the stereochemical representation of the supplier is determined and compounds are registered accordingly. Unreliable stereo data are removed to prevent misunderstandings and further issues. The stereochemical drawing convention applied by mcule.com is capable to represent fully described stereo configurations and fully or partially known / uncertain ones as well.
Automatic product update mechanism
Compound suppliers have their own compound database and online interface. At mcule.com not only are the structures collected and standardized but product data is also synchronized. When it is possible, we access and collect the in-stock available amount of the products and display it to you.
Currently up-to-date amount data is provided for 6.6M+ products represented in the purchasable compound collection. Mcule.com's web page that provides more detailed information about the current synchronization state of current suppliers is under development. In the meantime, we list here those compound suppliers provide up-to-date availabiliy information.
Suppliers with online shop
Currently, for more than 4.3M products the available amount is synchronized with suppliers' online shops. Catalogs synchronized via online shops are:
| Supplier | Catalog |
| --- | --- |
| Specs | Screening Compounds |
| ChemDiv | Discovery Chemistry Library (synthetic) |
| Enamine | HTS Collection |
| Enamine | Advanced Collection |
| ChemBridge | EXPRESS-Pick collection |
| ChemBridge | IONCore Library |
| ChemBridge | NHRCore Library |
| ChemBridge | KINACore Library |
| ChemBridge | GPCR Library |
| ChemBridge | NOVACore Library |
| Key Organics | Screening Compound Library |
Product data for these catalogs is synchronized on the fly when you are browsing mcule.com's compound index pages: the suppliers' online interface is queried directly for new information. We also update the full catalog of each supplier, except for Enamine, nightly.
Suppliers without online shop
Suppliers that don't have online shops but also provide frequent updates or have online interfaces to access available amount instantly:
| Supplier | Catalog |
| --- | --- |
| Life Chemicals | Screening Compound |
| Life Chemicals | Building Blocks |
| Vitas-M Laboratory | Historical collection |
| Vitas-M Laboratory | Fragments library |
| Chemical Block | Building Blocks |
| Chemical Block | Screening Library |
| InterBioScreen | Screening Compounds |
2.3M+ products fall into this category, with updated amounts, that are either accessed on the fly (Chemical Block) or nightly (Vitas-M Laboratories, InterBioScreen).
Where can you access product data
You can access updated product data on mcule.com's compound index pages. In compound index pages you can find all the information collected about a given chemical structure. Product data can be found under the 'Product availability' tab.
Access the purchasable compound collection
Purchasable compound collection can be downloaded from here and can be screened on Mcule's virtual screening interface. Alternatively, you can browse the collection: it is listed among the public collections on the collection tab.

If you would like to access all the product information collected from the compound suppliers in batch mode, or download the purchasable compounds with these data attached, you can choose one of our subscription plans. Subscription also enables you to screen the purchasable compound collection by product properties (such as purity, in stock amount, supplier catalog…), and export screening results with product access information included.
purchasable.txt · Last modified: 2016/03/18 11:12 by flack
---