Table of Contents
MCULE, the online drug discovery platform
DO EARLY PHASE DRUG DISCOVERY LIGHTNING FAST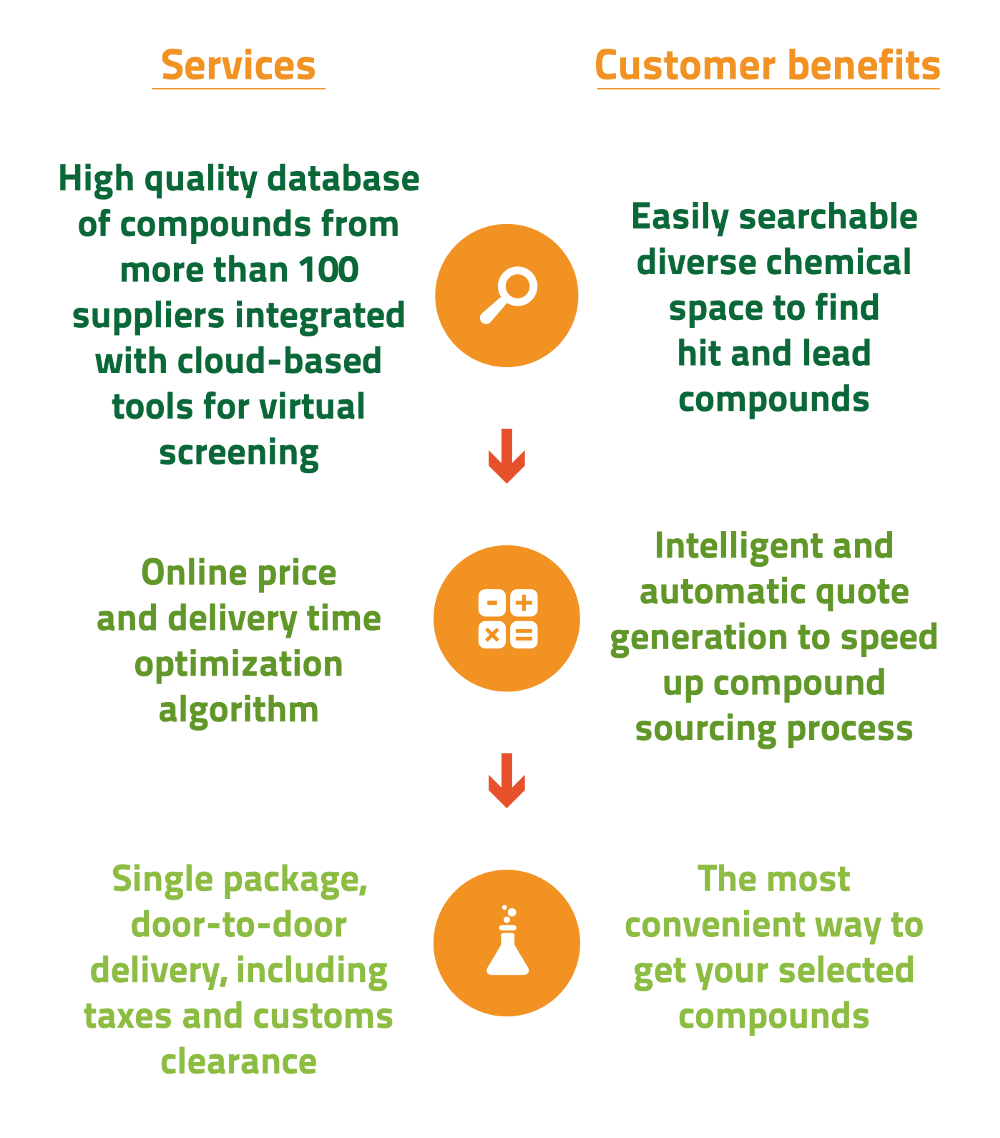 Mcule is an integrated drug discovery platform providing IT infrastructure, drug discovery tools, high quality compound database and professional compound delivery. These components are integrated together and can be accessed via a clean and simple web interface.
GET STARTED WITH MCULE
Need help? Discover Mcule with Ed's short videos: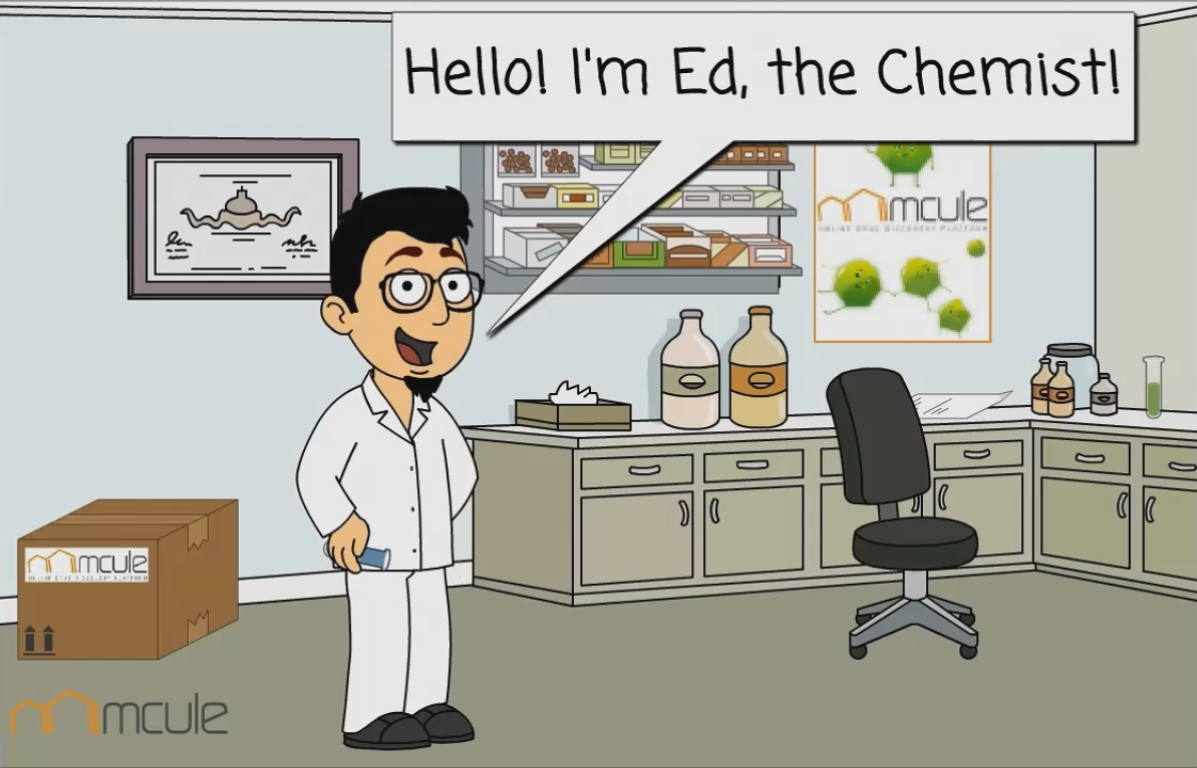 HIT IDENTIFICATION

You can identify new inhibitors/modulators of your target (receptor, enzyme, nucleid acid, etc.) by searching the Mcule database. In Mcule, you can easily build virtual screening workflows by putting together molecular modeling tools like LEGO bricks. Virtual screening workflows are a set of filters and calculations. Filters can eliminate compounds that unlikely bind your target or have other unwanted properties and calculations can rank order the best candidates for example by their estimated binding affinity. You can filter the whole Mcule database (over 5 million compounds) with several tools until you select the most promising compounds (10-1000). You can order the best hits by just a few clicks.
LEAD OPTIMIZATION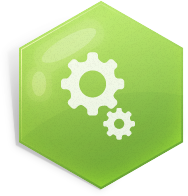 Mcule offers a continuously growing set of intuitive, easy-to-use modeling applications specifically designed to evaluate and generate ideas in the hit/lead optimization process. In the course of a drug discovery project, after identifying a hit or lead molecule, the next step is the optimization of multiple properties of the hit/lead. Some of the properties that typically need further optimization are binding affinity to the target, selectivity (affinity to off-targets) and ADMET properties.
COMPOUND SOURCING

See our brochure on MCULE COMPOUND SOURCING
Download our Compound Sourcing User Guide
High quality database, advanced compound selection, automated price optimization and professional delivery service. Search, find and order compounds from the highest quality database of purchasable compounds. We deliver them as a single package. Our unique Instant Quote feature generates price and delivery time quotes on-the-fly. Our price optimization algorithm can dramatically decrease the prices by finding the optimal suppliers for your compounds.
MCULE DATABASE
DOWNLOAD DATABASE: The Mcule database can be downloaded in SDF format including Mcule IDs and 2D structures from HERE. It can be processed in-house and you can come back with the Mcule IDs of the best hits to place an order HERE.
The Mcule database contains high quality molecule collections. All of them passed our in-house developed registration system: MAC (Mcule Advanced Curation).
The major part of the database consists of commercially available compounds (Purchasable compounds), that can serve as an input collection for virtual screening. Users can also upload their own molecule collections.
COMPOUND COLLECTION MANAGEMENT
Mcule provides a convenient, online solution for managing your compound databases and libraries as molecule collections. You can upload your own compounds and prepare custom subsets of the Mcule database. Your search results and queries are automatically stored so that you can access them any time you want. You can keep track on all your previous compound selections and get back to start the compound ordering process whenever you like. You can also refine your previous queries until you get the optimal search results. Molecule collection can be stored, deleted, modified, merged, imported, exported and shared with your colleagues. Mcule collections can be visualized in multiple ways together with associated data such as various properties, search and calculation results. Tables can be quickly sorted by these properties.
SUBSCRIPTIONS
After registration, all mcule users get immediate access to the Free package, which contains a reasonable set of drug discovery tools: simple tools (e.g. Similarity search) are provided without limitations, while more complex features (e.g. Docking (Vina)) can be accessed with some limitations. Users can subscribe to packages that change or eliminate these limits or give access to special tools and collections not available in the Free package.
LIMITS
Mcule users can exploit the practically unlimited computational capacity of cloud technology. Instead of limiting by CPU or other computational resources used, we apply the following limits:
Your usage limits including the number of remaining molecules can be tracked under "User profile / limits". To check your user profile click on your user name in the upper right corner on the mcule.com website.
See limits for the Free and Subscriptional packages.
SUPPORT
We provide an outstanding support for all Mcule users. Mcule runs and continually updates this wiki. If you encounter any problems, please check our Frequently asked questions (FAQ). If any questions or concerns remains, feel free to contact us by email: support[at]mcule.com.
CREDITS
Mcule.com is an integrated system consisting of several software components. You can find the list of the tools and resources we used to build mcule.com here.
start.txt · Last modified: 2018/10/03 16:19 by flack
---